Is It Really Worth Upgrading Your Home Just to Sell It?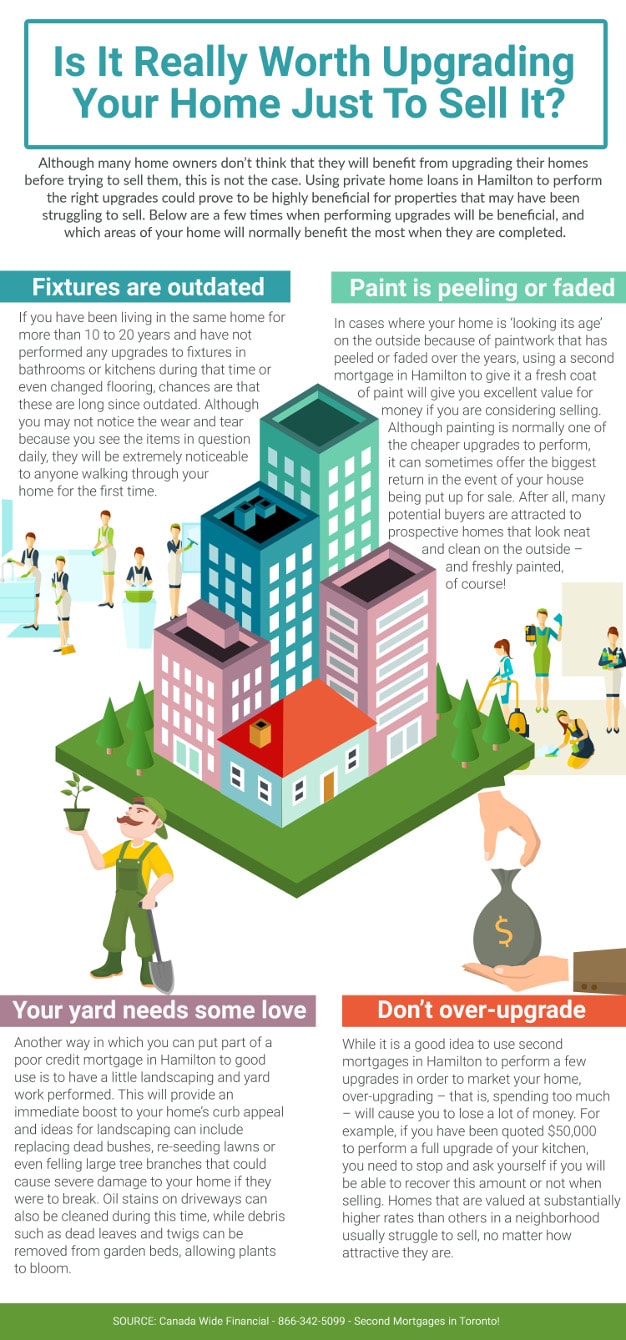 Use the Code Below to Embed this Infographic into Your Website!
Although many home owners don't think that they will benefit from upgrading their homes before trying to sell them, this is not the case. Using private home loans in Hamilton to perform the right upgrades could prove to be highly beneficial for properties that may have been struggling to sell. Below are a few tips when performing upgrades will be beneficial, and which areas of your home will normally benefit the most when they are completed.
#1 – Fixtures are outdated
If you have been living in the same home for more than 10 to 20 years and have not performed any upgrades to fixtures in bathrooms or kitchens during that time or even changed flooring, chances are that these are long since outdated. Although you may not notice the wear and tear because you see the items in question daily, they will be extremely noticeable to anyone walking through your home for the first time.
#2 – Paint is peeling or faded
In cases where your home is 'looking its age' on the outside because of paintwork that has peeled or faded over the years, using a second mortgage in Hamilton to give it a fresh coat of paint will give you excellent value for money if you are considering selling. Although painting is normally one of the cheaper upgrades to perform, it can sometimes offer the biggest return in the event of your house being put up for sale. After all, many potential buyers are attracted to prospective homes that look neat and clean on the outside – and freshly painted, of course!
#3 – Your yard needs some love
Another way in which you can put part of a poor credit mortgage in Hamilton to good use is to have a little landscaping and yard work performed. This will provide an immediate boost to your home's curb appeal and ideas for landscaping can include replacing dead bushes, re-seeding lawns or even felling large tree branches that could cause severe damage to your home if they were to break. Oil stains on driveways can also be cleaned during this time, while debris such as dead leaves and twigs can be removed from garden beds, allowing plants to bloom.
#4 – Don't over-upgrade
While it is a good idea to use second mortgages in Hamilton to perform a few upgrades in order to market your home, over-upgrading – that is, spending too much – will cause you to lose a lot of money. For example, if you have been quoted $50,000 to perform a full upgrade of your kitchen, you need to stop and ask yourself if you will be able to recover this amount or not when selling. Homes that are valued at substantially higher rates than others in a neighborhood usually struggle to sell, no matter how attractive they are.
If you would like to find out more about using private home loans in Hamilton to perform upgrades or renovations, contact our team here at Mortgagecwf.com today. We are able to assist with obtaining a poor credit mortgage in Hamilton as well.