5 Ways to Reverse Your Fortune…Even With Bad Credit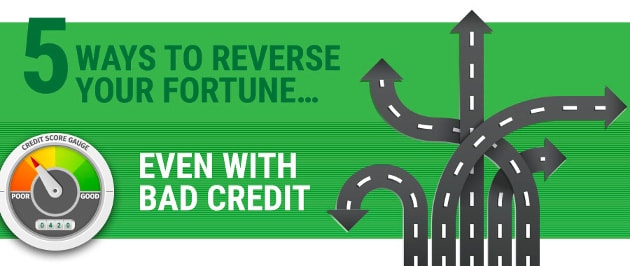 Thanks to the economic downturn, more home owners than ever are being faced with the possibilities of job losses, which ultimately lead to bankruptcy, foreclosure and a host of other late and/or unpaid bills. If you are dealing with the stress of not being able to repay all of your debts and you have a poor credit rating as a result thereof, there are a few ways in which you could benefit from obtaining a bad credit mortgage in London.
1. Consolidate your Debts
One of the most popular uses for poor credit mortgages in London is to consolidate a host of consumer debts. If you have numerous debts for vehicles, credit card bills, unexpected medical costs, school fees or virtually any other type of debt, chances are that you know how stressful it is to try and juggle all of these payments each month. Using a second mortgage in London to consolidate all of these debts into a single monthly repayment will help save a lot of time and effort, while also keeping the financial wolves from your door.
2. Save Money on Late Payment Fees
When obtaining a second mortgage in London to help consolidate your existing consumer debt, you'll not only have fewer payments to make each month; not having to pay separate bills each month will prevent you from wasting money on late fees for the bills that you simply couldn't cover any longer as well. Over the course of a year, this move could potentially save you thousands of dollars.
3. Refinance your Existing Mortgage at a Better Rate
Not everyone is aware of the fact that it is possible to refinance an existing mortgage by obtaining bad credit mortgages in London – even if your credit score is deemed to be questionable. These days though, it's possible for many private mortgage lenders to offer clients with bad credit scores competitive interest rates on their poor credit mortgages in London.
4. Repay Debts Quicker than Before
Your second mortgage will have a far lower interest rate than any of your existing consumer debts. This means that each monthly payment will help reduce the principal amount by a wider margin than the month before. As a result, you could find yourself repaying your mortgage far quicker than you would ever have been able to repay your consumer debts individually.
5. Perform Home Improvements to Increase your Property Value
While this may not sound like an instant way to make money with a poor credit mortgage, doing a few basic home improvements could render your property more saleable than others in the area if you ever decided to put it on the market.
If you would like to find out more about being able to improve your current financial situation by obtaining a second mortgage, get in touch with the team at Mortgagecwf.com today. They will be able to provide you with a range of options that will be most suitable for your current financial situation.