After Bankruptcy: How to Get your Life Back on Track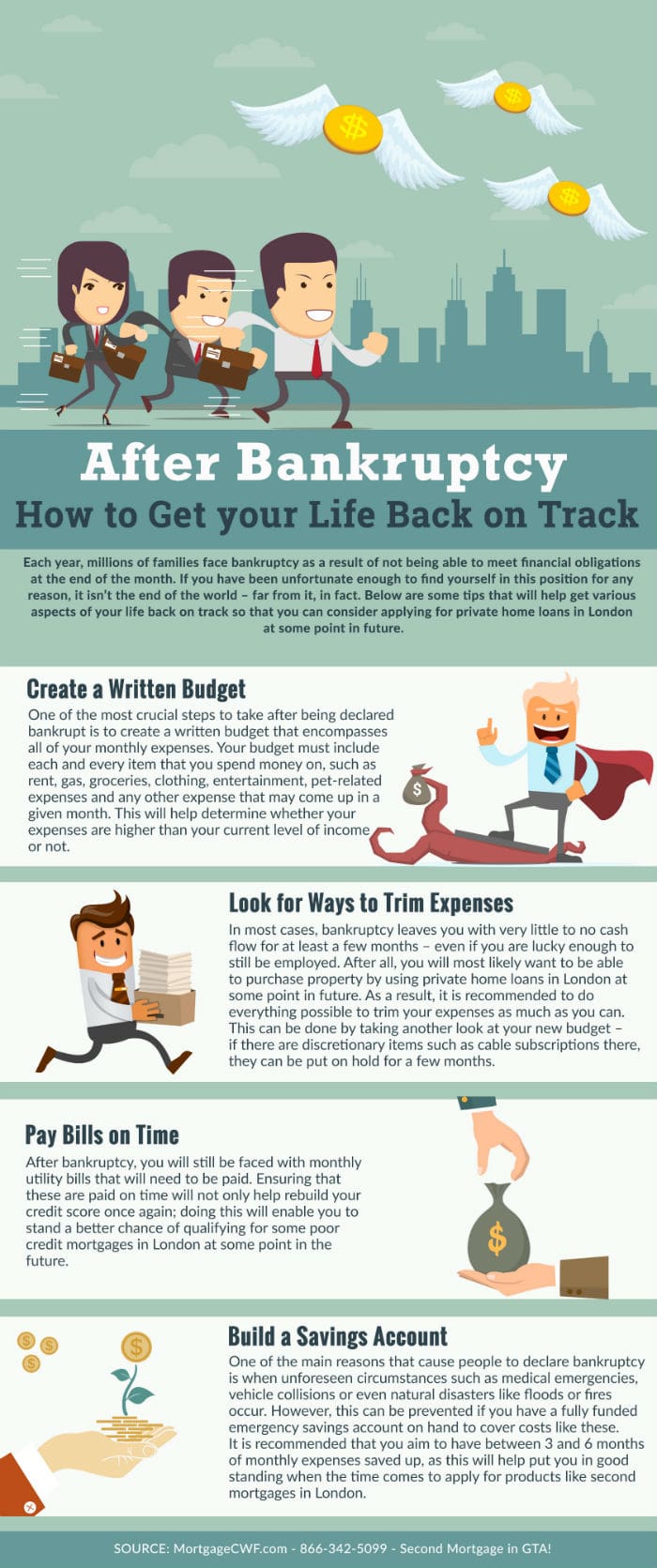 Use the Code Below to Embed this Infographic into Your Website!
Each year, millions of families face bankruptcy as a result of not being able to meet financial obligations at the end of the month. If you have been unfortunate enough to find yourself in this position for any reason, it isn't the end of the world - far from it, in fact. Below are some tips that will help get various aspects of your life back on track so that you can consider applying for private home loans at some point in future.
#1 – Create a Written Budget
One of the most crucial steps to take after being declared bankrupt is to create a written budget that encompasses all of your monthly expenses. Your budget must include each and every item that you spend money on, such as rent, gas, groceries, clothing, entertainment, pet-related expenses and any other expense that may come up in a given month. This will help determine whether your expenses are higher than your current level of income or not.
#2 – Look for Ways to Trim Expenses
In most cases, bankruptcy leaves you with very little to no cash flow for at least a few months - even if you are lucky enough to still be employed. After all, you will most likely want to be able to purchase property by using private home loans in London at some point in future. As a result, it is recommended to do everything possible to trim your expenses as much as you can. This can be done by taking another look at your new budget – if there are discretionary items such as cable subscriptions there, they can be put on hold for a few months.
#3 – Pay Bills on Time
After bankruptcy, you will still be faced with monthly utility bills that will need to be paid. Ensuring that these are paid on time will not only help rebuild your credit score once again; doing this will enable you to stand a better chance of qualifying for some poor credit mortgages in London at some point in the future.
#4 – Build a Savings Account
One of the main reasons that cause people to declare bankruptcy is when unforeseen circumstances such as medical emergencies, vehicle collisions or even natural disasters like floods or fires occur. However, this can be prevented if you have a fully funded emergency savings account on hand to cover costs like these. It is recommended that you aim to have between 3 and 6 months of monthly expenses saved up, as this will help put you in good standing when the time comes to apply for products like second mortgages in London.
If you are interested in finding out more about bad credit mortgages in London, we are the right people to chat with. Our consultants will be more than happy to provide you with a wide range of available options pertaining to bad credit mortgages in London and which of our products will be most suited for your financial situation.