Buying a House with a Bad Mortgage Loan
A bad credit history can keep you from buying the house of your dreams. However, with some expert advice and proper approach to the problem you can get on the property ladder and become a proud owner of your own home even if your credit history leaves much to be desired. Take a look at our latest infographic to find out how to buy a house with a bad credit history.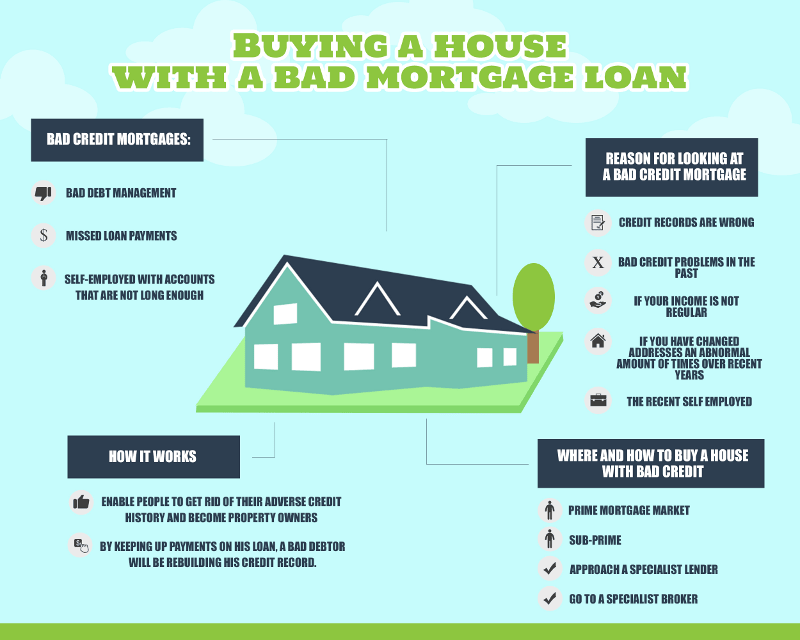 Use the Code Below to Embed this Infographic into Your Website!
How to Buy a Home with Bad Credit Loan
The problem of how to buy a house with bad credit, is not an easy one to resolve, but one of the ways to go about it, is to apply for a bad credit mortgage. You may have an adverse credit history even if you have done nothing wrong in your past, and this type of mortgage may be the route that you have to take to get on the property ladder
Bad credit mortgages explained
There are various names given to a bad credit mortgages, such as poor credit mortgage, non status mortgage or non standard mortgage. If you are having a problem getting a loan, and want to know how to buy a house with bad credit, then they all add up to the same solution.
A bad credit history can be due to a number of reasons that range from bad debt management, missed loan payments, to creditors knocking on the door. It could however, also mean nothing more than someone that does not have a credit history or is simply self-employed with accounts that are not long enough.
The usual bad credit mortgage is one that will help you buy a property even if your records are not good enough to satisfy a lender that you are a satisfactory risk. An important factor that separates this type of mortgage from the rest is the interest, which will be set at a higher rate. If you chose this route to go down to buy your house, then you must do so, having first worked out that you will be able to meet the repayments. If you fail to meet monthly payments, then there will be a number of quite stringent penalty clauses.
How it works
Knowing how to buy a house with a bad credit mortgage is the first step to becoming a homeowner. What is important to realize is that in the early years, this form of loan can be expensive. The good news is that a lot of people who go this route and manage to maintain a steady record of payments can usually remortgage to a cheaper rate after three years.
What a bad credit record mortgage can do, is to enable people to get rid of their adverse credit history and become property owners. By keeping up payments on his loan, a bad debtor will be rebuilding his credit record, and will eventually be able to get the same deal that is generally available to everyone else.
Where and how to buy a house with bad credit
This sort of loan is not offered by every type of mortgage lender. A high percentage of people who apply to a lender will be classed as part of the 'prime mortgage market.' People with credit issues will qualify as 'sub-prime.' This means that their credit rating cannot be structured to be eligible for a standard loan.
For people classified as sub-prime and wanting to know how to buy a house with bad credit, the solution is to approach a specialist lender that offers an adverse credit mortgage (bad credit mortgage). There are a number of lenders that provide this type of service. For some people, the process, of choosing the correct lender, can be more than a little confusing and for this reason they go to a specialist broker for help. The broker will be able to match his clients situation with the company that offers the best deal to suit his or her needs.
Reason for looking at a bad credit mortgage
There are many reasons why people consider taking out an adverse credit loan. These include:
Credit records are wrong. This can and sometimes does happen. It is always wise to check your credit rating yourself to see if there are any errors
Bad credit problems in the past
If your income is not regular or comes from a source that is not conventional
If you have changed addresses an abnormal amount of times over recent years
The recent self employed
Having found out how to buy a house with bad credit, for most people the next step is to find a suitable lender. For people that have an extremely high record of failure to pay loans back, and people who have been registered at some time in their past as bankrupt, even a bad credit mortgage may be difficult to get.
For most people having a poor credit record need not stop them from getting on the property ladder. However, it is vital that they keep up payments, so they need to think about going into such a contract very carefully.