How Soon after Bankruptcy Can I Get a Mortgage?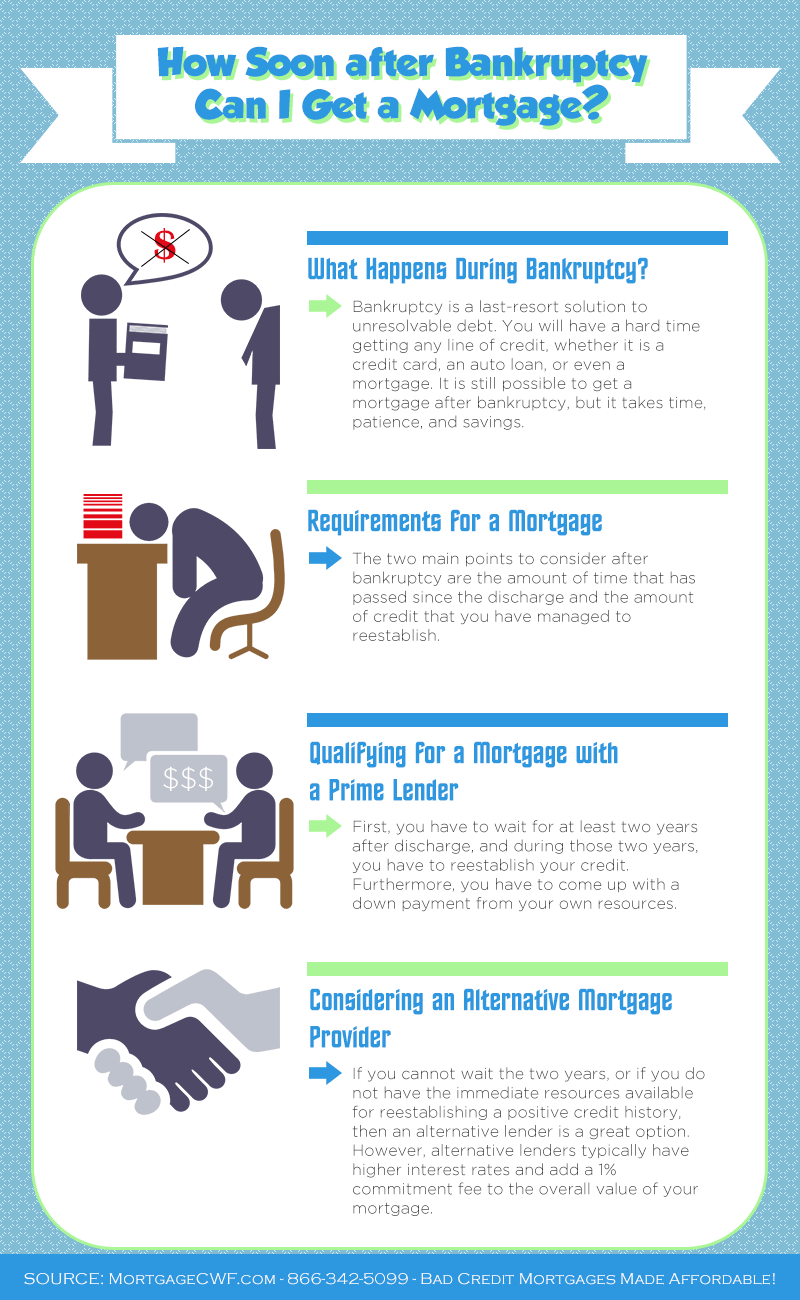 Use the Code Below to Embed this Infographic into Your Website!
It is possible to get a mortgage in Canada following a bankruptcy. Most lenders consider the length of time since the discharge as well as the length of time you spend re-establishing your credit, though they may consider other factors, as well. These include your employment history, your income, and even the reason for the bankruptcy itself.
What Happens During Bankruptcy?
Bankruptcy is a last-resort solution to unresolvable debt. Essentially, when you have more debt than you can afford to repay, declaring bankruptcy legally resolves that debt. There are many laws governing bankruptcy in Canada to protect you and your creditors, but once the court discharges your debt, your credit score suffers. Unfortunately, this means that you will have a hard time getting any line of credit, whether it is a credit card, an auto loan, or even a mortgage. It is still possible to get a mortgage after bankruptcy, but it takes time, patience, and savings.
Requirements for a Mortgage
A mortgage is one of the largest loans offered by banks and other financial institutions, and as such, they must carefully calculate their risks before lending. The two main points to consider after bankruptcy are the amount of time that has passed since the discharge and the amount of credit that you have managed to reestablish. Both of these things have a huge influence on your ability to borrow, but it is important to remember that financiers often consider other factors such as your employment history, your income versus your expenditures, and even the reason for your bankruptcy.
Qualifying for a Mortgage with a Prime Lender
In order to qualify for a mortgage with a prime lender, you will have to meet some stringent criteria. First, you have to wait for at least two years after discharge, and during those two years, you have to reestablish your credit. Furthermore, you have to come up with a down payment from your own resources. This means that you cannot borrow money from family or take out a loan from another lender when it comes to your down payment. A 5% down payment is usually a requirement, but 10% is even better.
Considering an Alternative Mortgage Provider
If you cannot wait the two years, or if you do not have the immediate resources available for reestablishing a positive credit history, then an alternative lender is a great option. These lenders look at things other than your credit history, so if you have worked for the same company for a number of years, your income-to-debt ratio is acceptable, and you have a sizeable down payment from any source (at least 15% of the selling price), your odds are much better. However, alternative lenders typically have higher interest rates and add a 1% commitment fee to the overall value of your mortgage.
Overall, if you want the best possible mortgage rates, you need to wait at least two years following the discharge of your bankruptcy and work hard during that time to rebuild your credit. However, if you can afford the additional interest, an alternative mortgage provider is a great choice and they can begin working with you immediately after discharge.