How to Stop the Debt Cycle and Start Living the Life You Want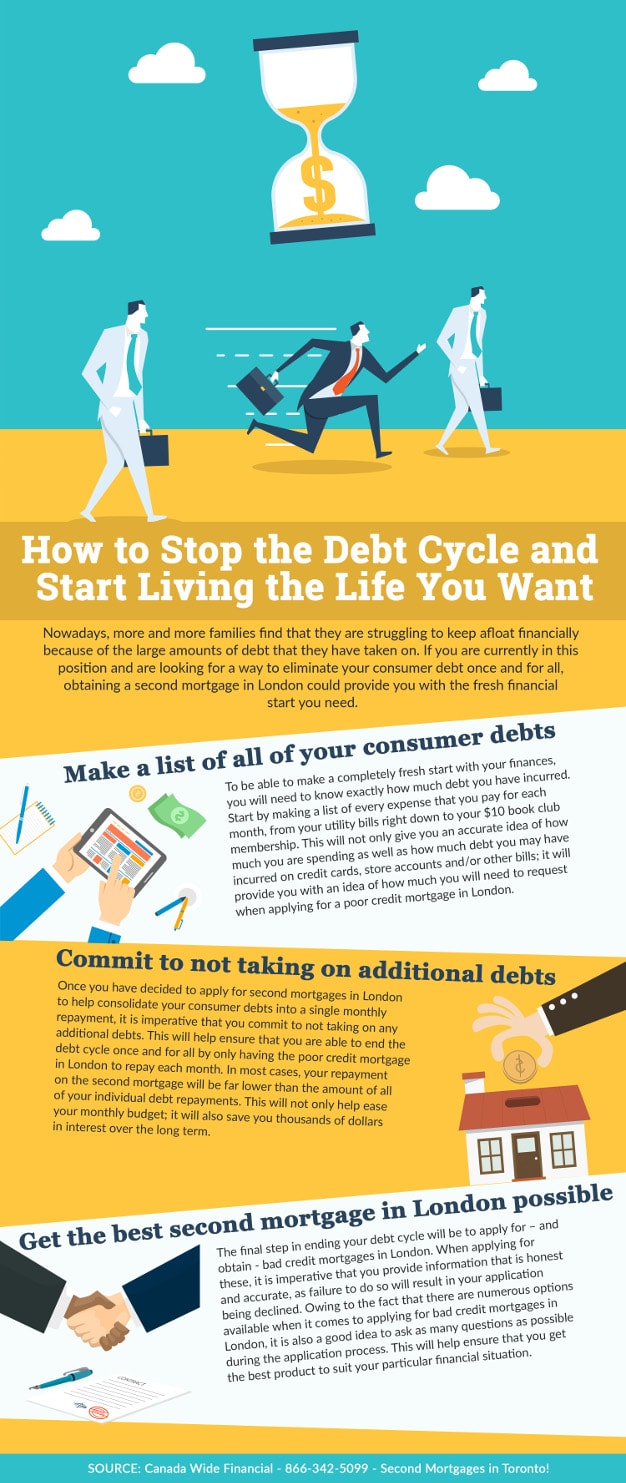 Use the Code Below to Embed this Infographic into Your Website!
Nowadays, more and more families find that they are struggling to keep afloat financially because of the large amounts of debt that they have taken on. If you are currently in this position and are looking for a way to eliminate your consumer debt once and for all, obtaining a second mortgage in London could provide you with the fresh financial start you need.
#1 – Make a list of all of your consumer debts
To be able to make a completely fresh start with your finances, you will need to know exactly how much debt you have incurred. Start by making a list of every expense that you pay for each month, from your utility bills right down to your $10 book club membership. This will not only give you an accurate idea of how much you are spending as well as how much debt you may have incurred on credit cards, store accounts and/or other bills; it will provide you with an idea of how much you will need to request when applying for a poor credit mortgage in London.
#2 – Commit to not taking on additional debts
Once you have decided to apply for second mortgages in London to help consolidate your consumer debts into a single monthly repayment, it is imperative that you commit to not taking on any additional debts. This will help ensure that you are able to end the debt cycle once and for all by only having the poor credit mortgage in London to repay each month. In most cases, your repayment on the second mortgage will be far lower than the amount of all of your individual debt repayments. This will not only help ease your monthly budget; it will also save you thousands of dollars in interest over the long term.
#3 – Get the best second mortgage in London possible
The final step in ending your debt cycle will be to apply for – and obtain - bad credit mortgages in London. When applying for these, it is imperative that you provide information that is honest and accurate, as failure to do so will result in your application being declined. Owing to the fact that there are numerous options available when it comes to applying for bad credit mortgages in London, it is also a good idea to ask as many questions as possible during the application process. This will help ensure that you get the best product to suit your particular financial situation.
When applying for second mortgages in London, you will be required to provide the lender with proof of income and other financial information such as tax documentation and your current monthly expenditure. This will help the lender determine how much you will qualify for in the form of a bad credit mortgage in London. If you are tired of being caught up in a constant cycle of consumer debt, get in touch with us today to find out how we can help you.