How to Use a Short Term Loan to Get Out of Debt for Good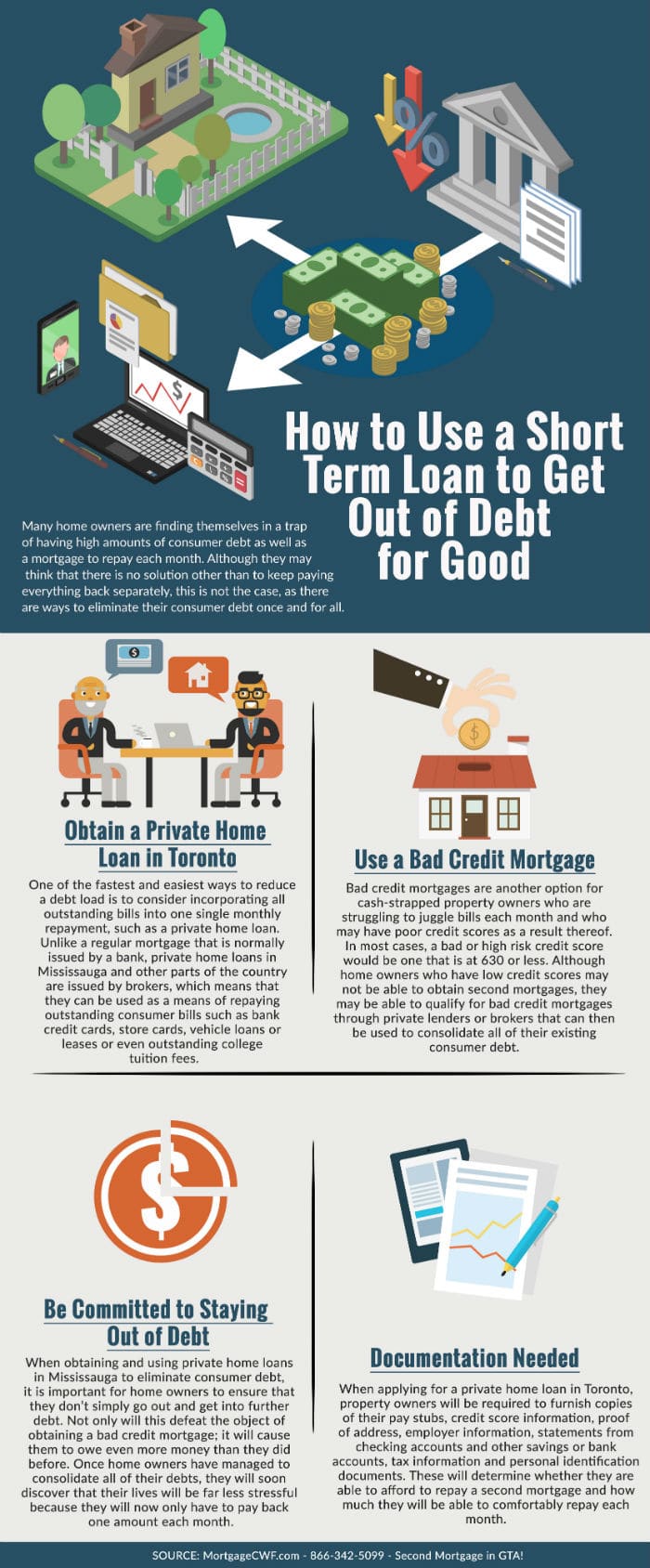 Use the Code Below to Embed this Infographic into Your Website!
Many home owners are finding themselves in a trap of having high amounts of consumer debt as well as a mortgage to repay each month. Although they may think that there is no solution other than to keep paying everything back separately, this is not the case, as there are ways to eliminate their consumer debt once and for all.
#1 - Obtain a Private Home Loan
One of the fastest and easiest ways to reduce a debt load is to consider incorporating all outstanding bills into one single monthly repayment, such as a private home loan. Unlike a regular mortgage that is normally issued by a bank, private home loans in Mississauga and other parts of the country are issued by brokers, which means that they can be used as a means of repaying outstanding consumer bills such as bank credit cards, store cards, vehicle loans or leases or even outstanding college tuition fees.
#2 - Use a Bad Credit Mortgage
Bad credit mortgages are another option for cash-strapped property owners who are struggling to juggle bills each month and who may have poor credit scores as a result thereof. In most cases, a bad or high risk credit score would be one that is at 630 or less. Although home owners who have low credit scores may not be able to obtain second mortgages, they may be able to qualify for bad credit mortgages through private lenders or brokers that can then be used to consolidate all of their existing consumer debt.
#3 - Be Committed to Staying Out of Debt
When obtaining and using private home loans in Mississauga to eliminate consumer debt, it is important for home owners to ensure that they don't simply go out and get into further debt. Not only will this defeat the object of obtaining a bad credit mortgage; it will cause them to owe even more money than they did before. Once home owners have managed to consolidate all of their debts, they will soon discover that their lives will be far less stressful because they will now only have to pay back one amount each month.
#4 - Documentation Needed
When applying for a private home loan in Toronto, property owners will be required to furnish copies of their pay stubs, credit score information, proof of address, employer information, statements from checking accounts and other savings or bank accounts, tax information and personal identification documents. These will determine whether they are able to afford to repay a second mortgage and how much they will be able to comfortably repay each month.
If you happen to be a home owner who is struggling to repay numerous consumer credit bills each month, why not speak to us about how you may be able to consolidate all of them into a single repayment each month. Not only will this save you a lot of hassle and stress; you will save thousands of dollars in interest over the long term as well. Give us a call today to find out more.