Mortgage your Spring Home Renovation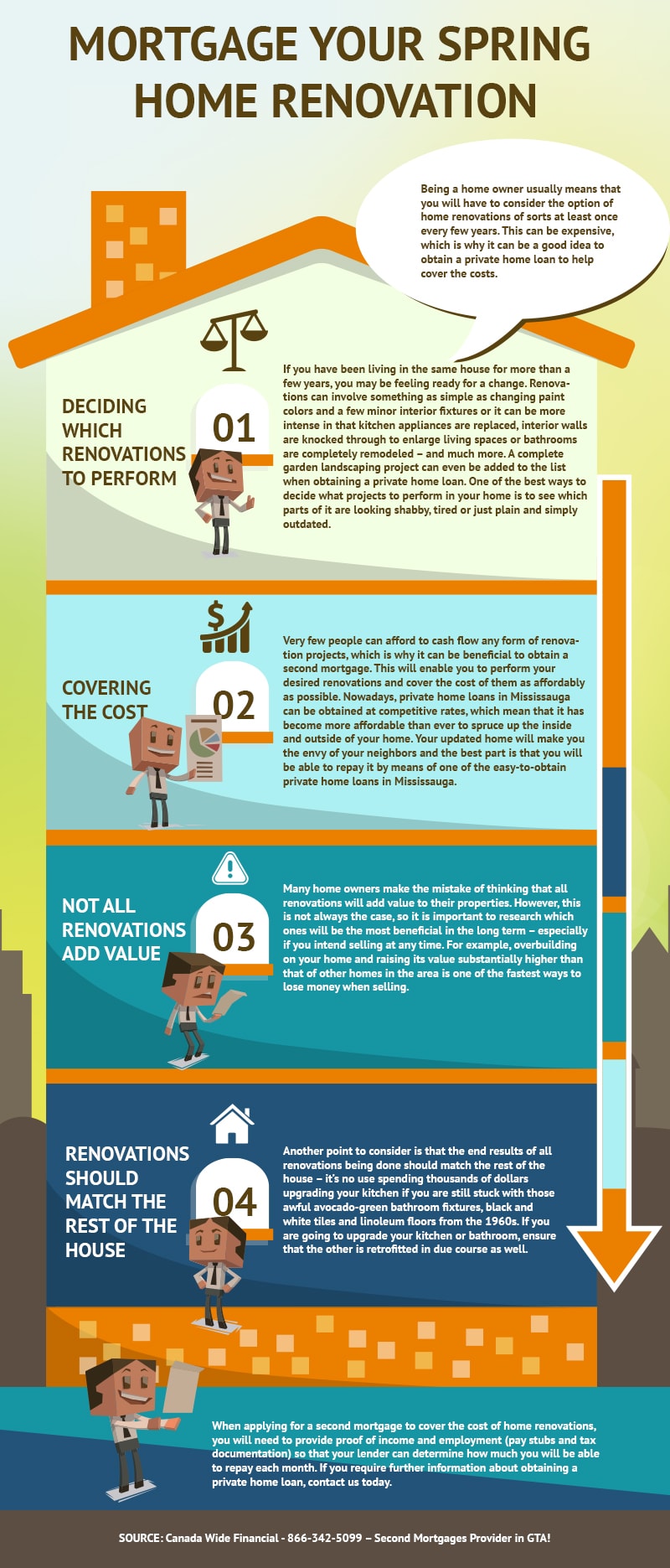 Use the Code Below to Embed this Infographic into Your Website!
Being a home owner usually means that you will have to consider the option of home renovations of sorts at least once every few years. This can be expensive, which is why it can be a good idea to obtain a private home loan in Mississauga to help cover the costs.
#1 - Deciding which renovations to perform
If you have been living in the same house for more than a few years, you may be feeling ready for a change. Renovations can involve something as simple as changing paint colors and a few minor interior fixtures or it can be more intense in that kitchen appliances are replaced, interior walls are knocked through to enlarge living spaces or bathrooms are completely remodeled – and much more. A complete garden landscaping project can even be added to the list when obtaining a private home loan in Mississauga. One of the best ways to decide what projects to perform in your home is to see which parts of it are looking shabby, tired or just plain and simply outdated.
#2 - Covering the cost
Very few people can afford to cash flow any form of renovation projects, which is why it can be beneficial to obtain a second mortgage in Mississauga. This will enable you to perform your desired renovations and cover the cost of them as affordably as possible. Nowadays, private home loans in Mississauga can be obtained at competitive rates, which mean that it has become more affordable than ever to spruce up the inside and outside of your home. Your updated home will make you the envy of your neighbors and the best part is that you will be able to repay it by means of one of the easy-to-obtain private home loans in Mississauga.
#3 - Not all renovations add value
Many home owners make the mistake of thinking that all renovations will add value to their properties. However, this is not always the case, so it is important to research which ones will be the most beneficial in the long term – especially if you intend selling at any time. For example, overbuilding on your home and raising its value substantially higher than that of other homes in the area is one of the fastest ways to lose money when selling.
#4 – Renovations should match the rest of the house
Another point to consider is that the end results of all renovations being done should match the rest of the house – it's no use spending thousands of dollars upgrading your kitchen if you are still stuck with those awful avocado-green bathroom fixtures, black and white tiles and linoleum floors from the 1960s. If you are going to upgrade your kitchen or bathroom, ensure that the other is retrofitted in due course as well.
When applying for a second mortgage in Mississauga to cover the cost of home renovations, you will need to provide proof of income and employment (pay stubs and tax documentation) so that your lender can determine how much you will be able to repay each month. If you require further information about obtaining a private home loan, contact us today.