Hot Housing Markets and Knowing When the Price is Right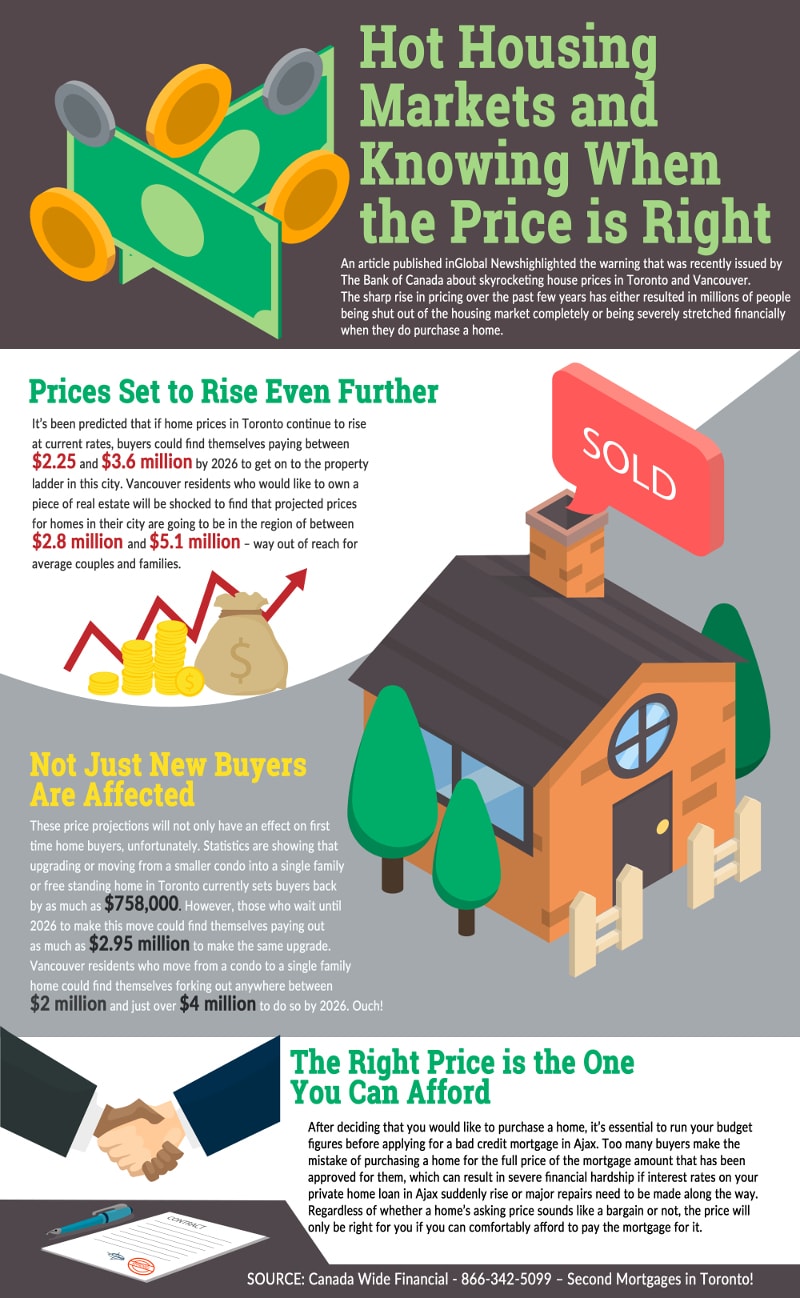 Use the Code Below to Embed this Infographic into Your Website!
An article published in Global News highlighted the warning that was recently issued by The Bank of Canada about skyrocketing house prices in Toronto and Vancouver. The sharp rise in pricing over the past few years has either resulted in millions of people being shut out of the housing market completely or being severely stretched financially when they do purchase a home. This has resulted in more people than ever applying for second mortgages in Ajax.
1. Prices Set to Rise Even Further
It's been predicted that if home prices in Toronto continue to rise at current rates, buyers could find themselves paying between $2.25 and $3.6 million by 2026 to get on to the property ladder in this city. Vancouver residents who would like to own a piece of real estate will be shocked to find that projected prices for homes in their city are going to be in the region of between $2.8 million and $5.1 million – way out of reach for average couples and families. In fact, during 2015, numerous Vancouver residents banded together as part of the #DontHave1Million campaign to voice their concerns about rising property prices.
2. Not Just New Buyers Are Affected
These price projections will not only have an effect on first time home buyers, unfortunately. Statistics are showing that upgrading or moving from a smaller condo into a single family or free standing home in Toronto currently sets buyers back by as much as $758,000. However, those who wait until 2026 to make this move could find themselves paying out as much as $2.95 million to make the same upgrade. Vancouver residents who move from a condo to a single family home could find themselves forking out anywhere between $2 million and just over $4 million to do so by 2026. Ouch!
3. The Right Price is the One You Can Afford
After deciding that you would like to purchase a home, it's essential to run your budget figures before applying for a bad credit mortgage in Ajax. Too many buyers make the mistake of purchasing a home for the full price of the mortgage amount that has been approved for them, which can result in severe financial hardship if interest rates on your private home loan in Ajax suddenly rise or major repairs need to be made along the way. Regardless of whether a home's asking price sounds like a bargain or not, the price will only be right for you if you can comfortably afford to pay the mortgage for it.
Canadians who are looking for homes in more affordable locations can consider Ottawa, Montreal and Calgary – prices look set to rise far more slowly in these cities. Here at Mortgagecwf.com, our team will be able to work with you in order to determine how much of a bad credit mortgage in Ajax you can afford to cover each month. Contact us to find out more about obtaining poor credit mortgages or a private home loan in Ajax today.