Is 2017 the Year the Bubble Finally Bursts on the Toronto Real Estate Market?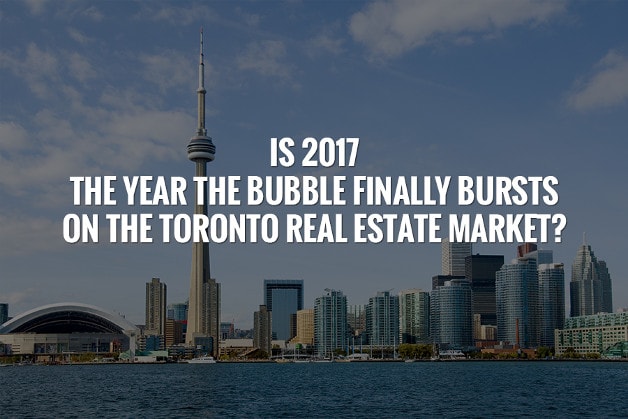 There is no doubt that 2016 was a good year for the Greater Toronto Area real estate market. What is of some concern to potential buyers, sellers, and industry analysts is how factors will impact that momentum during 2017. At present, there is no consensus on what may happen, but there are a few factors indicating that the boom will continue, albeit at a slower pace. Here are some points to keep in mind if you are planning to purchase a residential property during 2017 and how it may be the smartest move you could make.
Indicators From Fourth Quarter 2016
The first and possibly the second quarter of 2017 is likely to be heavily influenced by the growth that took place during the latter part of 2016. One of the reasons for this sustained growth is the structure of the government's Places to Grow Program. With the GTA included in that program, the demand is likely to remain higher for some time. While much of the demand will focus on newer neighborhoods that are developed, those more established neighborhoods adjacent to the new construction will also enjoy a high level of desirability among new buyers. That means current owners who are thinking about downsizing will find that their homes are less likely to languish on the market for long.
Financing Options for the Ongoing Boom
Buyers of all types will be in a position to make the most of the market conditions of 2017. Those who want to use a private home loan in Toronto to secure residential rental properties will find that they can do so with relative ease. Individuals who specialise in flipping homes for a profit will find the private home loan arrangement especially appealing.
Homeowners who have a great deal of equity in their homes and who happen to live in more desirable areas will find that securing second mortgages will be relatively simple. Given the high demand and the likelihood of the property continuing to increase in value, lenders will assume less risk. That in turn means being able to secure those second mortgages at more competitive terms.
Even those who have not had the best of financial luck the last several years are likely to find options for bad credit mortgages in Toronto that fit neatly into their budgets. Assuming they are on sound financial footing now, there's no reason why they can't take advantage of the market now, diligently pay on that mortgage for five to seven years, and then take a look at refinancing as a way to secure more attractive terms. Since the market is predicted to be stable if not still in the midst of a boom, a mortgage conversion will not be hard to manage.
The bottom line is that potential home buyers should not assume 2017 will mean the end of the boom in the Toronto real estate market. If anything, the market will continue to thrive and offer several types of opportunities. Chart a course for the year and begin to look around for suitable properties. With the help of a broker, finding the right approach to financing will not be hard.