Poor Credit Is No Reason to Stop Dreaming of Investing in Your Future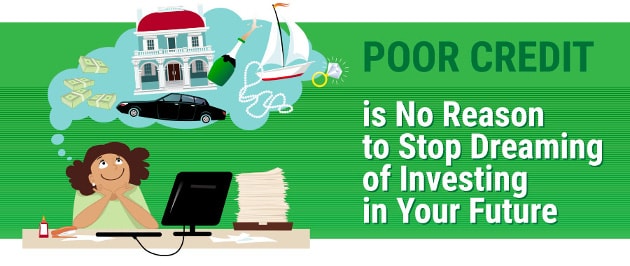 If you are unfortunate enough to be saddled with a poor credit score, you may be thinking that your dreams of property ownership will have to be shelved. While this may have been the case in the past, it is now possible for you to get involved with real estate investing by taking advantage of a bad credit mortgage or private second mortgages that are available these days.
1. A Poor Credit Mortgage May be Easier to Obtain
Most traditional mortgages that are available from banks are quite difficult to obtain for people with decent credit ratings – never mind those who have scores of 600 or less. However, these days, there are many private lenders who are willing to take a chance on offering a range of bad credit mortgage products to people like you who are keen to make their way up the property ladder as quickly as possible. After all, house prices in Ontario don't look set to come down too much in the near future. While you would still have to supply a range of financial information when applying for second mortgages, the criteria to qualify for them are not normally as strict as they are when applying for your initial mortgage.
2. Lower Deposit May be Required
Another advantage of using a poor credit mortgage to invest in your future by purchasing property is that you will not normally need to provide as much of a deposit or down payment as you did when purchasing your first home. In fact, it may even be possible to find second mortgages where you won't need to come up with a down payment. However, the criteria may vary from one lender to another in this regard.
3. Enjoy Competitive Interest Rates
Many people think that they will be faced with excessively high interest rates when they take on a poor credit mortgage in Ontario. However, more private mortgage lenders than ever are in a position to offer their clients some of the most competitive rates in the industry, with some of them even being under the 4% mark. This means that there is virtually no excuse for you to not take advantage of these rates and build your property investment portfolio.
4. Required Documentation to Apply for a Second Mortgage
When applying for a second mortgage in Ontario, you will need to supply various financial and other records to complete the process. These include tax returns, wage or salary stubs, a driver's license or passport, a social insurance number and a recent credit report. There may be cases where lenders will request additional information and this will need to be supplied promptly in order to prevent delays in the application process.
If you are keen to build a healthy property portfolio and have a less than stellar credit rating, why not chat with the team at Mortgagecwf.com? They will be able to assess your financial situation and determine how best to assist you.