5 Tips to Keep in Mind when Shopping for a Second Mortgage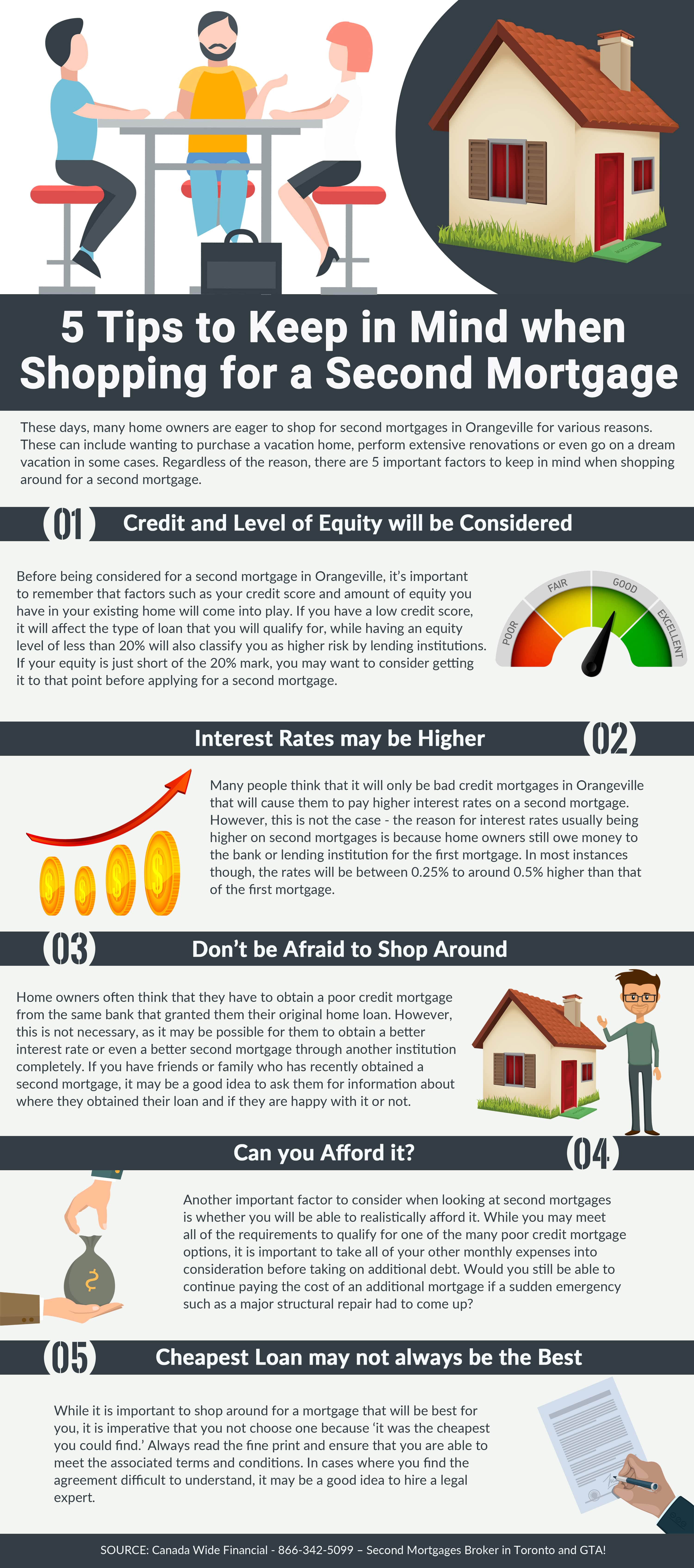 Use the Code Below to Embed this Infographic into Your Website!
These days, many home owners are eager to shop for second mortgages in Orangeville for various reasons. These can include wanting to purchase a vacation home, perform extensive renovations or even go on a dream vacation in some cases. Regardless of the reason, there are 5 important factors to keep in mind when shopping around for a second mortgage.
#1 – Credit and Level of Equity will be Considered
Before being considered for a second mortgage in Orangeville, it's important to remember that factors such as your credit score and amount of equity you have in your existing home will come into play. If you have a low credit score, it will affect the type of loan that you will qualify for, while having an equity level of less than 20% will also classify you as higher risk by lending institutions. If your equity is just short of the 20% mark, you may want to consider getting it to that point before applying for a second mortgage.
#2 – Interest Rates may be Higher
Many people think that it will only be bad credit mortgages in Orangeville that will cause them to pay higher interest rates on a second mortgage. However, this is not the case - the reason for interest rates usually being higher on second mortgages is because home owners still owe money to the bank or lending institution for the first mortgage. In most instances though, the rates will be between 0.25% to around 0.5% higher than that of the first mortgage.
#3 – Don't be Afraid to Shop Around
Home owners often think that they have to obtain a poor credit mortgage from the same bank that granted them their original home loan. However, this is not necessary, as it may be possible for them to obtain a better interest rate or even a better second mortgage through another institution completely. If you have friends or family who has recently obtained a second mortgage, it may be a good idea to ask them for information about where they obtained their loan and if they are happy with it or not.
#4 – Can you Afford it?
Another important factor to consider when looking at second mortgages is whether you will be able to realistically afford it. While you may meet all of the requirements to qualify for one of the many poor credit mortgage options, it is important to take all of your other monthly expenses into consideration before taking on additional debt. Would you still be able to continue paying the cost of an additional mortgage if a sudden emergency such as a major structural repair had to come up?
#5 – Cheapest Loan may not always be the Best
While it is important to shop around for a mortgage that will be best for you, it is imperative that you not choose one because 'it was the cheapest you could find.' Always read the fine print and ensure that you are able to meet the associated terms and conditions. In cases where you find the agreement difficult to understand, it may be a good idea to hire a legal expert.