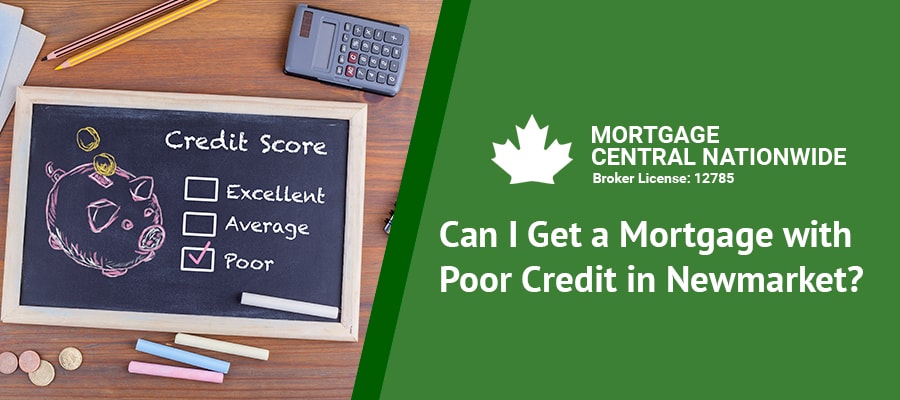 Housing prices in the GTA continue to rise and the Aurora/Newmarket is no exception. That may leave you thinking there is no way you can obtain a mortgage with your current credit score. Before assuming that no lender will be willing to work with you, take the time to explore your options. You are likely to find there are several lenders who would love to help you buy a home of your own. Here are some of the factors that those alternative lenders will consider closely.
The Amount You Make Now
While some lenders place a great deal of emphasis on your credit score, others are more interested in other aspects of your finances. Lenders who offer poor credit mortgages in Newmarket will want to take a look at your monthly income. Most of these lenders want to know you have enough income after taxes to pay the monthly mortgage payment and still take care of your other basic living needs. Assuming you generate at least the minimum amount of income the lender requires, your application has a good chance of progressing to the next level of consideration.
The Debts You Currently Owe
Some of the reasons why you have a lower credit score could have to do with past financial issues. Events that happened several years ago such as not being able to pay bills on time due to a job loss or a medical condition that kept you from working will not play a large role in the decisions of many alternative lenders. The current amount of debt you owe could be a factor.
As with your income, the goal is to determine if you have enough money coming in to cover all your current expenses and still manage a mortgage payment responsibly. If you are currently operating your home on a cash basis and paying off the balances on any credit accounts you have each month, the lender will take that as a good sign. You will have taken another step toward an approval.
If your current debt to income ratio is high, remember there are things you can do about it. An upcoming salary increase at work will make the ratio more favorable. If possible, try to pay down some of your debts over the next several months. A more favorable ratio will improve the odds of being approved for any of the home loans in Toronto and the surrounding area.
Most Current Comments on Your Credit Report
Some poor credit lenders will pay little attention to your credit reports. Others will want to look over comments left by creditors over the last couple of years. If you have been working toward improving your score, those more recent comments are likely to be positive. The fact that it's been some time since you had any negative comments will work in your favor. In fact, a series of positive comments in the last 12-24 months could result in being offered more competitive terms and condition as part of the mortgage offer.
Having Answers to Any Questions The Lender Asks
Remember that even lenders who provide mortgages to those with less than perfect credit may have some questions. Those questions may arise from something you included on the application or they may have to do with an entry on a credit report. It's up to you to provide reasonable answers to those questions.
The best way to be prepared is to order copies of your reports from the three major credit reporting bureaus. Since you have no way of knowing if the lender will obtain information from one, two, or all three, it pays to know in advance what they may see. Remember that not all creditors report to all three bureaus. That means there could be comments on one report that is not on the other two. When you are prepared to respond to any questions the lender has, you increase the odds of settling those concerns and further improve the odds of receiving the mortgage loan you seek.
What About Private Mortgage Financing?
Personal loans are a possibility if you find that other mortgage arrangements will not work out. There are investors who pool resources to offer mortgage loans to those who are in the process of regaining their good credit rating. You may find that one of those groups would extend a loan and even offer terms that you find agreeable.
This type of mortgage arrangement is often referred to as private mortgage financing. In many ways, opting for this method of buying a home offers the chance to dispense with many of the complications associated with traditional bank loans. At the same time, many of these private lenders do report to the major credit bureaus. As you make your payments on time, the lender reports the activity to the bureaus and you have something to offset those unfortunate negative reports of a few years back.
As with most poor credit lenders, the focus is going to be mainly on your situation as it stands today. The amount of money you currently earn each month will be a primary factor. The value of the home you want to buy will also factor into the evaluation. If you have lived within your budget the last couple of years and avoided the accumulation of a lot of additional unsecured debt, that will also work in your favor.
If someone has told you that no lender is willing to work with you, don't listen. Even if you are emerging from what was a difficult financial period, there are lenders out there who are willing to help you achieve the dream of becoming a homeowner. Take the time to determine how much you can afford to pay on the loan each month and reach out to a service that can help you find the right lending alternatives. You may be surprised at how quickly one or more of those lending agencies will approve your application and extend terms that you can manage with ease.